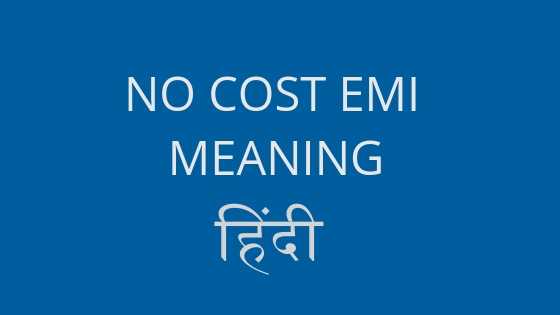 To understand No Cost EMI first let me explain what is EMI on credit card.
If you want to buy large value item credit card company ( bank) give your credit or loan and charge some interest , and you pay that installment monthly.
No Cost EMI is offered by Seller ( i.e Amazon / Flipkart ) not bank. Seller will give you upfront discount which equals to interest charged by bank, so in the end you are not paying extra money for your EMI.
Also there is Zero Downpayment and Zero processing fees, however taxes as applicable charged by bank.
How to get No Cost EMI
Step 1: Check product eligibility for No Cost EMI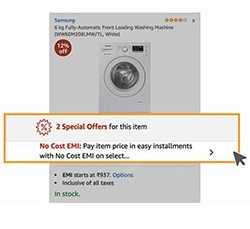 Step 2: Discover EMI Options on the product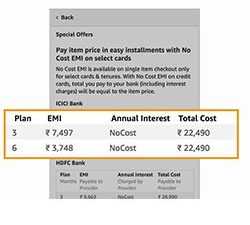 Step 3: Select No Cost EMI Option on payment page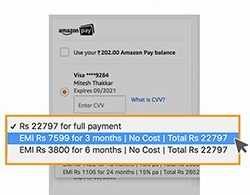 FAQ
Will I be charged interest by my bank?
Yes, your bank will charge some interest. However, an instant discount equal to interest payable to bank will be provided, thus making it no additional interest cost for you.
You will pay your bank the total product cost split into installments.
| Product Price | 30,000 |
| --- | --- |
| You will get instant discount at time of order | -638 |
| Bank Interest Charged every month | +638 |
| Finally you pay | 30,000 |
You pay exactly the price of the product only and no extra costs pertaining to interest or processing fees is charged.
What will by bank statement looks like?
Initially your card limit will be blocked for the full purchase amount. After 4-7 business days your bank will process this to an EMI and you will be charged the EMI amount in your monthly card statement.
After Placing Order
Discounted amount paid to Bank  (Rs 30,000 – Rs 638) Rs 29,362
After 4-7 Working Days
Amount revered by the bank and converted to EMI.
Monthly Installments
You will pay Rs 10,000 every month for 3 months, as you pay your EMI, your credit limit will be released.
Mobiles Available on No Cost EMI
Laptops available on No Cost EMI
---
No Cost EMI in Hindi
No Cost EMI जानने के लिए Credit Card पर  EMI क्या है ये जानते है।
यदि आप Credit Card से भारी मूल्य की चीज़ वस्तुए खरीदना चाहते है तो Credit Card Company (bank) आपको Credit या Loan (ऋण ) देगी और आपसे ब्याज वसूल करेगी ।  आपको इस किश्त का  मासिक भूगतान करना होता है।
No Cost EMI बैंक द्वारा नहीं  बल्की Flipkart, Amazon जैसे विक्रेता ने ये option शुरु किया है।
No Cost EMI मे Flipkart, Amazon आपको Discount देगा जो की बैंक द्वारा वसूल किए जाने वाले ब्याज (Interest) जितना होगा। इसलिए अंत मे आपको EMI के अतिरिक्त ब्याज  के पैसे नहीं  देने  है ।
साथ ही आपको Zero Down Payment और Zero processing fees भी उपलब्ध है । हालांकि Tax बैंक के अनुसार लागू होंगे।
No Cost EMI कैसे प्राप्त करे ?

STEP-1 : No Cost EMI के लिए PRODUCT की ELIGIBILITY जांच करे ।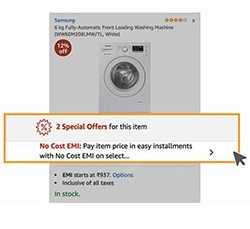 STEP-2 : PRODUCT पर EMI OPTION ख़ोजे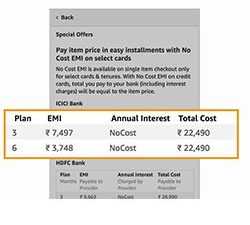 STEP-3  : PAYMENT PAGE पर No Cost EMI विकल्प चुने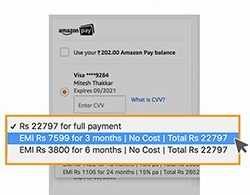 FAQ :
क्या मुझे अपने बैंक द्वारा ब्याज का भुगतान करना होगा?
हां, आपका बैंक कुछ ब्याज लेता है हालांकि, बैंक को देय ब्याज के बराबर एक तत्काल DISCOUNT प्रदान की जाएगी, इस प्रकार आपको  कोई अतिरिक्त ब्याज लागत नहीं देना है ।
आप अपने बैंक को कुल उत्पाद (Product) की लागत का भुगतान किश्तों में विभाजित करेंगे।
| Product कीमत | 30,000 |
| --- | --- |
| प्राप्त  instant discount खरीद के वक्त | -638 |
| हर महीने बैंक के ब्याज का शुल्क लगाया जाता है | +638 |
| अंत में आप PAY  करते हैं | 30,000 |
आप केवल Product  की कीमत का भुगतान करते हैं और ब्याज या प्रोसेसिंग फीस से संबंधित कोई अतिरिक्त लागत नहीं है।
बैंक स्टेटमेंट मे  क्या क्या होगा?
प्रारंभ में आपकी कार्ड की LIMIT  पूर्ण खरीद राशि के लिए Block  कर दी जाएगी। 4-7 व्यावसायिक दिनों के बाद आपका बैंक EMI  पर कार्रवाई करेगा और आपके मासिक कार्ड स्टेटमेंट में आपको EMI  राशि का भुगतान किया जाएगा।
ORDER देने के बाद
बैंक को दी गई राशि – (Rs 30,000 – Rs 638) Rs 29,362
4-7 WORKING DAYS के बाद
बैंक द्वारा PRODUCT की AMOUNT वापस की जाती है और इस AMOUNT को EMI  मे  परीवर्तित किया जाता है ।
Monthly Installments
आप 3 महीने के लिए प्रति माह 10,000 रुपये का भुगतान करेंगे, जैसा कि आप अपना EMI देते हैं, आपकी CREDIT LIMIT  फिर से RELEASED  की जाएगी।