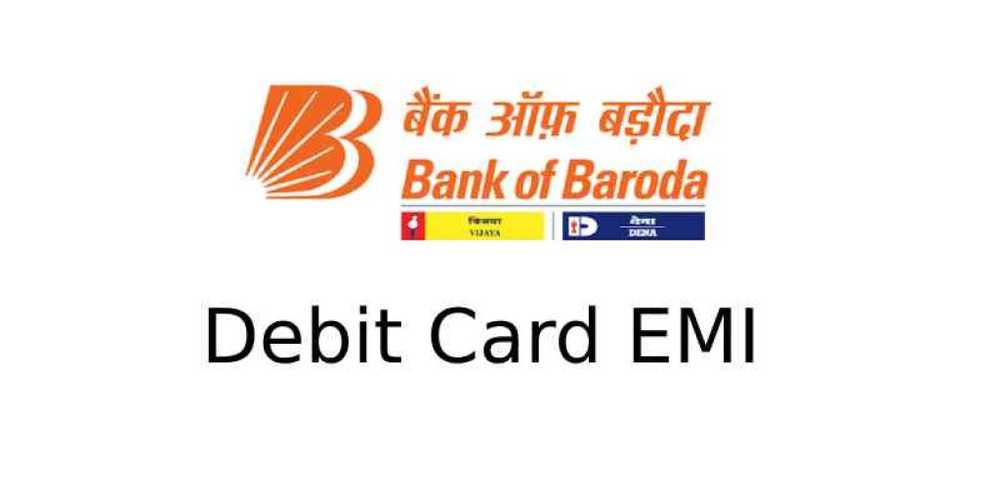 Debit Card EMI from Bank of Baroda (BoB) is available only selected customers only and maximum amount is Rs 50,000.
Tenure for the this EMI available is 6,9 and 12 months with attractive rate of interest.
There is No Processing or Fore closer charges, how ever if there are late payment there will be Rs 500 have to pay.
Convenient fees will be charged by merchant and depends on loan amount.

How to Apply?
You can apply online from bank of baroda website by filling up your contact details and location.
Apply Online
Rate of Interest for Bank of Baroda for Debit Card EMI depends on merchant and you can calculate EMI
You can buy any consumer products which merchant sells, like mobiles on debit card emi from Bank of Baroda is also available.
How to Pay EMI on a Debit Card?
In India, there's a process similar to using a credit card for payments called EMI (Equated Monthly Installments) through debit cards. This process is designed to benefit the user. Different banks set a minimum limit for availing EMIs, usually starting from Rs. 50,000. If you have a debit card, you can choose this option while making a purchase on the merchant's platform.
Before making the purchase, you need to decide if you want to go for EMI payments through your debit card. Many top merchants offer this option, and you can find it on the product information page. Once you've made up your mind, proceed to the checkout page and select the debit card option for EMI payments.
You'll need to choose the tenure (duration of the EMI) and the rate of interest. Then, there will be an additional step for authentication through a PIN and OTP verification before you can complete the order.
The first EMI deduction will take place within 30 days of the purchase. It's essential to know that this EMI facility is auto-approved, meaning that it will automatically continue until the full amount is paid.
Keep in mind that apart from the interest, some banks may charge processing and foreclosure fees. So, before you decide to use this EMI option, make sure you are aware of all the associated charges.
Important Notes
If you use debit card EMI payments, here are some important things to keep in mind:
You don't need to have a recurring or fixed deposit with the bank to avail this facility.
You can close the loan before the agreed time; some banks won't charge any fees for early repayment.
The minimum purchase amount for using EMI may vary from bank to bank.
The EMI needs to be repaid in full within 3-24 months, depending on the transaction amount.
You won't have to deal with any paperwork for this EMI option.
Many e-commerce platforms provide this facility for specific brands and products.
The interest rate is relatively high, usually ranging from 12% to 16% per year.
If you want to use debit card EMI, you should choose this option before making the purchase; you can't convert regular purchases into EMI later.
Not all bank debit cards offer this option, so buyers should check if their debit card supports it before using it for EMI payments.