AO Smith 10 L Storage Water Geyser (SGS-GREEN SERIES/SGS-GREEN-010, White) is available on EMI without credit card from Bajaj EMI card and selected Debit Cards.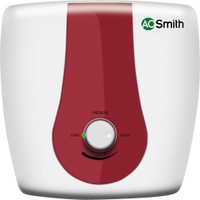 MRP of Rs 10110 and offer price is around Rs 8499
Enjoy soothing hot water baths with the A.O. Smith 6 L Water Heater. With its Blue Diamond glass-lining technology, this water heater's tank is protected against corrosion, making it long-lasting. It is built with a glass-coated heating element that conforms to the shape of the tank and ensures even and uninterrupted heating with sufficient hot water availability.
Moreover, this water heater's advanced PUF injection technology helps distribute the high-density foam consistently to create an insulation layer that ensures high energy efficiency.

AO Smith Features
Storage Geyser
10 L
8 Bar Pressure
Vertically Mounted