Bestseller mobiles are available on Bajaj Finserv and No Cost EMI Credit cards with 0% interest. Some mobiles are also available on Debit card EMI with interest.
Below is the list of mobiles available at No cost EMI from credit card and Bajaj Finance.
This article last updated on 08th Oct 2022
Vivo on Bajaj EMI Finance
Vivo recently launched its online store with some attractive offers like zero cost EMI, priority shipping.
Almost all the Vivo Smartphone models are available on No Cost EMI from Credit Cards as well as Bajaj EMI Card.
How to check if Vivo Smartphone available on Bajaj EMI?
1. On Official Vivo Store Go to your smartphone page. Vivo X80 Pro
2. Check the product page for this offer.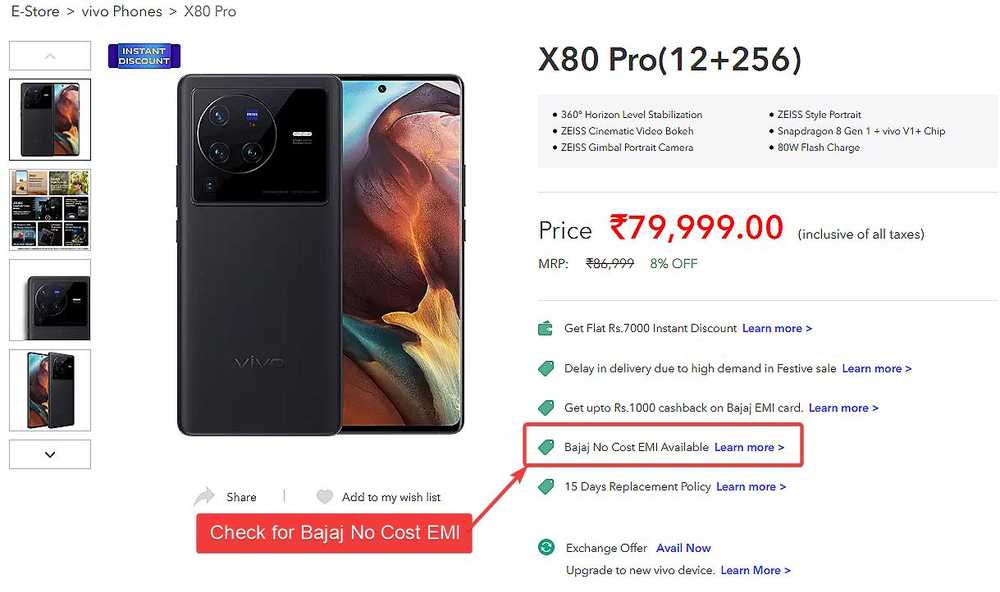 3. Once login and select address select EMI in Payment Option.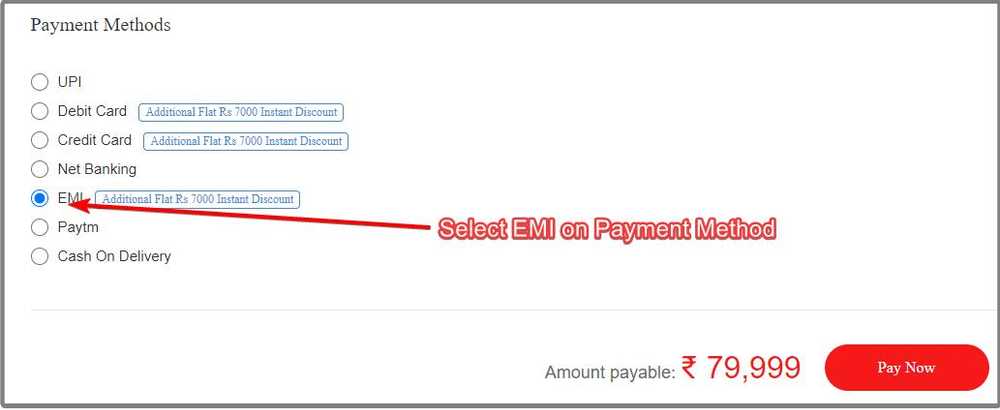 Continue with Your Payment Process
Vivo No Cost EMI Table
| Months | Monthly EMI | Overall Cost |
| --- | --- | --- |
| 3 | Rs7,664 @ No Cost |  22990 |
| 6 | Rs3832 @ No Cost |  22990 |
| 9 | Rs2555 @ No Cost |  22990 |
| 12 | Rs1916 @ No Cost |  22990 |
Oppo Mobiles No Cost EMI
Oppo Mobiles is selfie expert with AI Beauty and Full-view display
New?Oppo F7?is available on Bajaj Finance Card and No Cost EMI from Major Credit Cards,? EMIs from ?1,833/month. Other EMIs from ?1,067/month from Credit Cards.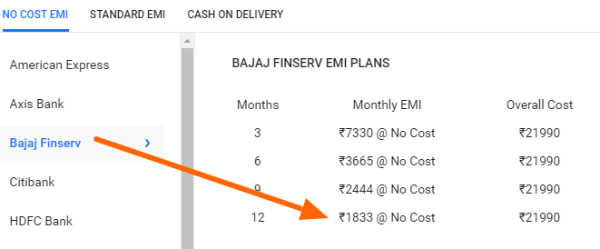 Oppo No Cost EMI Plans
On Amazon India Bajaj Finance may not be available only No Cost EMI from Credit Card available.
If you can wait longer Oppo F7 with 128GB Internal storage and 6GB RAM will be available soon.
Samsung Mobiles No Cost EMI Bajaj Finance
Samsung is the leader in smartphone business since a long time, Samsung has a various option of smartphone from feature phone to the flagship
Latest Samsung mobiles available with No Cost EMI offer from official online Samsung store.
Latest smartphone is Samsung On8?exclusive from Flipkart India. No Cost EMI only available on Bajaj Finserv for this product EMI will be Rs. 5,664 for 3 months with 0% interest
On Official Store's Page you can find the details on
1.Go to Store Galaxy A53 , on the product page, Under Offers and Benefits click on this.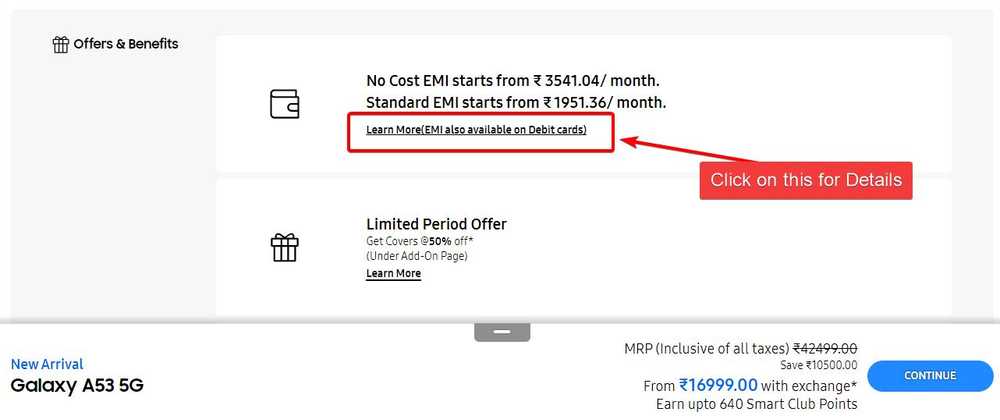 2. On Click on that there will be popup which will show Bajaj EMI for Samsung Mobiles.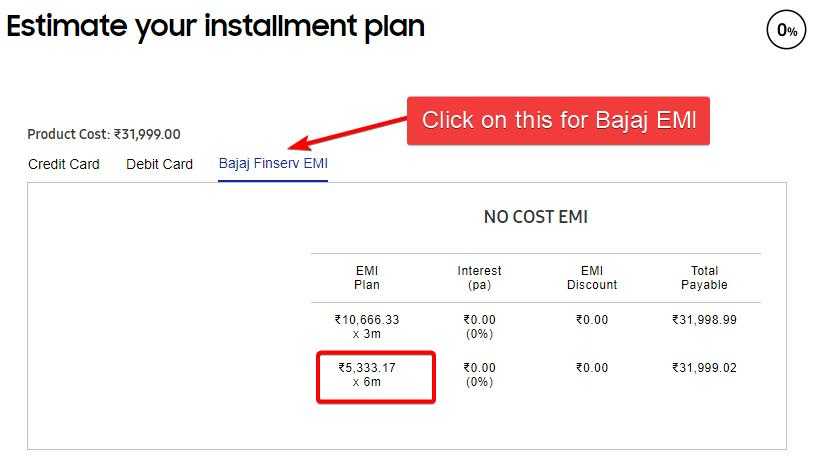 Samsung No Cost EMI Example Table
| Months | Monthly EMI | Overall Cost |
| --- | --- | --- |
| 3 | Rs 4300 @ No Cost | Rs 12900 |
| 6 | Rs 2150 @ No Cost | Rs 12900 |

Samsung Mobiles on Amazon
Mi Mobiles on Bajaj Finance and No Cost EMI
Most affordable and Value for Money smartphones from Xiomi available on Bajaj EMI card and No cost EMI on Credit Card
Currently Best seller smartphone is Redmi Note 5 Pro??, and soon Mi A2 will be available exclusive from online partners like Flipkart and Amazon.
Below is the Example of Mi Mix 2 No Cost EMI, which is available on 0% Interest from Credit Card as well as Bajaj Finserv Card.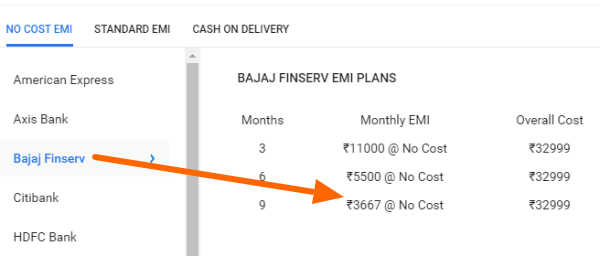 EMI Table for Mi Mix 2 Mobile
On Official store of Mi No Cost EMI available from credit cards , you can find more details here.

Mi Mobiles Amazon
Motorola Mobiles No Cost EMI
Motorola smartphones known for built quality and stock android experience, latest announced Moto X4 with 6GB RAM and 64GB internal memory.
No Cost EMI on Credit cards and Bajaj Finance available for Motorola Mobiles , some of the mobiles also available on Debit card EMI.
View

Moto Mobiles Amazon
LG Mobiles Bajaj EMI
LG smartphone pickup the trend after V series and Amitabh Bacchan endorsement , latest smartphone is?LG V30+? is Flagship from LG.
Also?LG G6?with fullview vision is available on Bajaj Finserv and Credit Card No Cost EMI upto 12 months.? Heavy discount is available around 40% Off.
View LG Mobiles
Google Pixel Bajaj Finance
Google Pixel XL smartphone is the best rated in terms of camera and hardware. No Cost EMI and Bajaj Finance available for upto 12 months with??4167? installments.
Sony Mobiles No Cost EMI
Sony is known for premium smartphones with great camera, and now we have some basic Xperia model to premium ZX Premium, these smartphones are available on both No Cost EMI Credit card and Bajaj Finance EMI.
View Sony Mobiles
Honor Mobiles on No Cost EMI
Honor from huawei.com is one of the rising smartphone with great pricing and latest features like full view display.
Honor 7X
and Honor 9i is best seller in Amazon and Flipkart. Latest addition to flagship from honor is Honor View 10?we will update you once honor smartphone will available on No Cost EMI
View Honor Mobiles
Gionee Mobiles on No Cost EMI
Gionee smartphone? known for best battery and selfie and best seller smartphone from Gionee includes A1? and M7 Power with No Cost EMI starts from??1417 with credit card. Currently Bajaj Finance EMI is not available.
View Gionee Mobiles
Apple iPhones on Bajaj EMI Card
From iPhone 5 to iPhone 8 all smartphones from Apple are available on No Cost EMI and Bajaj Finance. Up coming
iPhone X
hopefully also available on No Extra Cost EMI
View iPhones on No Cost EMI
You can confirm this from product listing page, as show below.
?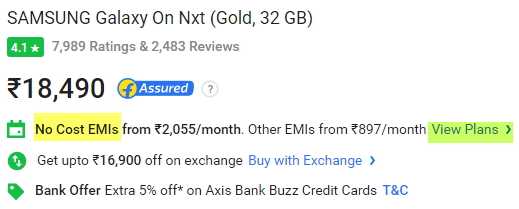 Important
If you not able to view below smartphone on Bajaj EMI offers. Follow below instructions
Search product and go to product Page
View All Sellers

Select seller which have offer most probably?OmniTechRetail click on more offers

?Add to cart this product and checkout.
List of LED TV available for Bajaj EMI Card
List of Laptop?available No Cost EMI