Do you know?
65% Indians smartphone owners have cracked their screens.
19% Indians dropped their smartphone owners have cracked their screens.
What is Accidental Damage Protection?
Flipkart Protect Damage Protection Plan for Mobiles provides 1-year protection against any kind of accidental or liquid damage
From dropped phones to split water.
Now protect your phone from accidents at a cost as low as Rs 500
What Is Covered?
Fell in liquid
Fell on the ground
Damaged in rains
Dropped from the building
Crushed by car
Dropped in toilet
Advantages of Flipkart Protect?
Repair or Refund?Guarantee
Genuine?Spare Parts
Hassle-Free Claim and Activation
Free Doorstep Process Pickup & Drop
How to buy?Flipkart Protect?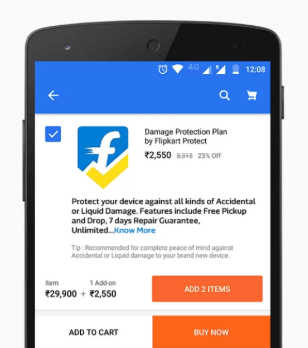 Select the option to purchase Flipkart Protect Damage Protection while buying your mobile.
Make the payment for the Flipkart Protect Damage Protection while purchasing your mobile.
Note: Flipkart Protect Damage Protection can only be purchased while buying your mobile. It cannot be bought after the mobile purchase.
How Flipkart Protect Claims Process Works?
Call helpline on 1800-425-5568 Share the nature, extent and cause of damage.
Submit proofs of Invoice Copy, Government ID and Device Images to [email protected]
Post verification, pay additional amount of Rs 500 through online payment link
Pack the device as per instructions and keep it ready for pickup.
Device to be repaired or replaced within 7-10 days.
Not Covered on Flipkart Protect [Must Read]
Manufacturing defects already covered under Manufacturer's warranty
Loss or Theft
Normal maintenance, wear and tear or routine service
Loss or damage to accessories
Damage due to SIM card and any ancillary product
Loss of data or loss of installed software
Unauthorized modifications or services
Cosmetic damage not resulting in complete stoppage of/or functioning of product
Physical or liquid damage outside the tenure of protection
Intentional damage or loss caused by incorrect storage and usage not in accordance to manufacturer's guideline
Important Notes
This service would be provided by Jeeves Consumer Services, a Flipkart group company.
Additional?amount of ?500 per claim required every time of repair.
You have to buy Protection Plan along with Mobile you can not buy later on.
Device will be formatted during the repair process
Insurance Sum assured will capped at 80% of the device list price.
You can transfer Protect plan to new owner , register their name, address and contact details to 1800 425 5568.
Mobiles with Damage Care

View all Mobiles