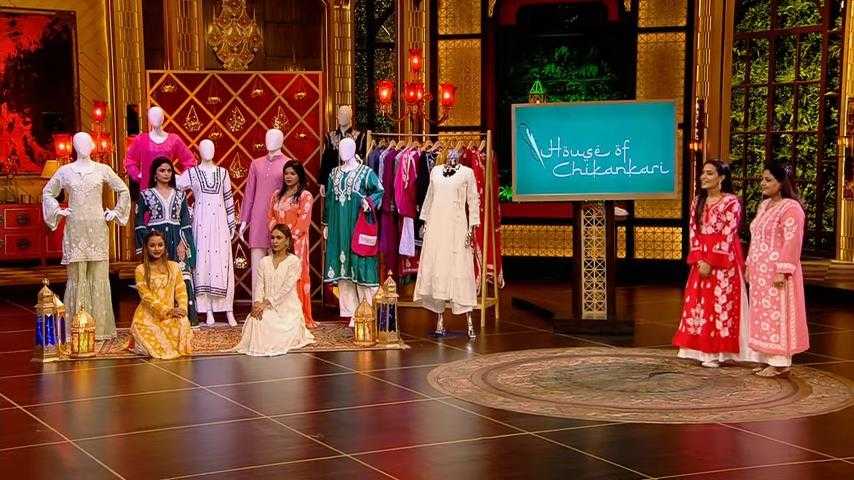 House Of Chikankari is a brand that offers modern-style Chikankari apparel online. With their exquisite handcrafted work, they have managed to reach customers all over the world. The founders, Aakriti Raval and Poonam Raval, started the House Of Chikankari with the aim of solving the problem of unorganized industry where customers often struggle to find quality assurance and authenticity of the craftsmanship.
In their journey of two years, they have provided employment to more than 5000 skilled artisans and have had over 15000 customers shop from their website. Their vision is to maintain the authenticity of this craft while making it relevant to a modern audience.
The Sharks were left amazed after hearing about the sales and success of House Of Chikankari. They were impressed with the dedication and passion of Aakriti and Poonam. The entrepreneurs shared how they started the brand during the COVID lockdown, with Aakriti being a housewife and Poonam having a background in fashion.
They discussed the process of customizing and designing the Chikankari garments, which involves sharing the designs with their contract manufacturer and receiving ready samples. The hand embroidery industry is highly organized and difficult to systemize, but House Of Chikankari has managed to overcome these challenges.

The Sharks were impressed with the financial growth of the business, with sales reaching 7.4 crores in the last fiscal year and a net profit of 17 lakhs. They also discussed the international sales and the categories of products that sell the most, with straight kurtas and kurta sets being the best-selling category.
The entrepreneurs expressed their emotional attachment to the business and their customers. They emphasized the importance of understanding and connecting with customers on a personal level. Their goal is to provide employment and support to the artisans in villages around Lucknow, where Chikankari has been a traditional craft for centuries.
The Sharks were intrigued by the offer of investment and made their respective decisions. While some Sharks showed interest in negotiating the deal, Aakriti and Poonam decided to close the deal with an investment of 75 lakhs for a 5% equity stake.
Overall, the pitch of House Of Chikankari in Shark Tank India showcased the success and potential of the brand, leaving the Sharks impressed with the entrepreneurs' dedication, financial growth, and impact on artisans.